Included
FEATURE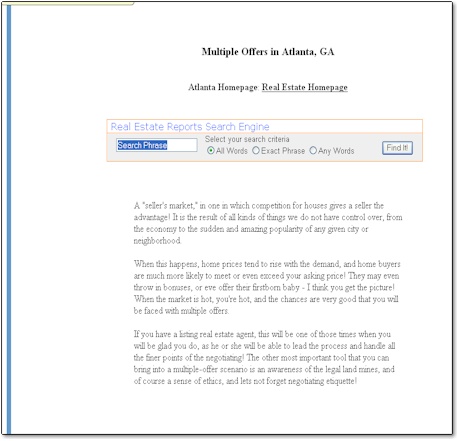 [ click to enlarge ]

77 real estate reports are included with your site. These reports cover everything from mortgage to buying selling and more. There are category pages as well that categorize these reports by not only whether a person is buying or selling their home, but at what stage they're in.

You can capture leads from these reports (settings in the Admin Console you control) by requiring a person to register before the full report is emailed (site does it, you have no work to do ) to their given email address, *OR* you can set it so that only a certain (you set the amount) amount of reports can be read before they're required to give contact information. Either way can capture an enormous amount of leads. This is especially effective if you add reports about your area of the world! :)

The buying area includes :



If your not ready, then be sure you're ready by reviewing what's below


Are you ready for Home Ownership?  These articles will help you understand the issues involved.  You will also be able to learn something about lending and financing as it pertains to home ownerhip..

REPORTS INCLUDED FOR THIS CATEGORY

Are you ready to buy a home?

Making the transition from renting to buying

Pros and cons of home ownership

How much home can you afford?

Calculate your income vs. debt

How much do I have to save to buy a home?

Homebuying for young people: plan ahead



Looking
Finding your home is the most important and often the most challenging part of the home buying process!  These reports will help you find the home of your dreams by assisting you witht he house hunting process!
REPORTS INCLUDED FOR THIS CATEGORY

What type of home do you want?

A short guide to real estate lingo and acronyms

Don't forget your preapproval letter



Choose a home, make an offer
Even if you have found a home, making the final choice often involves weighing important criteria and prioritizing your wants and needs..

REPORTS INCLUDED FOR THIS CATEGORY

How to choose a neighborhood

The basics of making an offer



Get a loan
Because there are many different kinds of mortgages, it is important that you understand the different types available to you...
REPORTS INCLUDED FOR THIS CATEGORY

What are my mortgage options?

Applying for a mortgage loan

What happens after you apply?



Inspection and final negotiation
The home inspection is an important final step.  If you would like to learn more about this and other final procedures such as negotiations and terms and conditions, please read the following..

REPORTS INCLUDED FOR THIS CATEGORY

Goodbye inspection, hello trouble

Environmental inspection tips

The bottom line on contract negotiation

How to win the bidding wars



Closing and possession
The 'closing' is the meeting where you take ownership of your new home. These reports will help you with closing and moving ito your new home, as well as the tax benefits associated with your new home purchase!

Costs associated with a home loan

Tax benefits of home ownership are almost too good to be true

Home sweet home: shelter from taxes




The selling area includes :

Not ready yet? well here are a few things to consider....
These reports will help you determine if you are ready to sell.  Are you aware of the tax implications and benefits of selling your home?


REPORTS INCLUDED FOR THIS CATEGORY

Check the estimated value of your home

FSBO woes: why it's so hard to sell your own home

Why use a REALTOR? when selling

Tax implications of selling a home


Setting the sale price
Setting the list price of your home is the most important step in your sale.  Set too low, you lose money, but set too high and your home will not sell!


REPORTS INCLUDED FOR THIS CATEGORY

Myths and facts about appraisals

How much is your home really worth?

How to read housing market stats


Preparing your home
A well presented home will sell faster and for a larger amount than one that is not presented properly.  An agent will understand how to sell your home for the best price possible.


REPORTS INCLUDED FOR THIS CATEGORY

Tips for making your home more saleable

Setting the stage sells your home


Listing and advertising your home
What does it mean to be in the MLS and how does it help?  Is it better to try to sell your home by yourself or list with a local agent.  These reports will attempt to shed light on this important issue.


REPORTS INCLUDED FOR THIS CATEGORY

The seller listing agreement: what's it all about?

The basics of marketing your home

Who benefits from an open house?


Making the sale and picking an offer 
What should you do if you have several offers?  Should you pick the first offer or wait for a certain period of time for more offers


REPORTS INCLUDED FOR THIS CATEGORY

The home inspector's coming


Closing on your home 
There is much to know when it comes to closing and closing costs.  Is the the buyer's, seller's, or both party's joint responsibility to sell pay these costs?  What are points and how do they affect your monthly payments?


REPORTS INCLUDED FOR THIS CATEGORY

Closing-related tax tips for buyers and sellers

The bottom line on contract negotiations

Six seller-financing pointers

Contract negotiation: terms and conditions