ALSO : Mortgage Websites - General Business Web Sites



Why doesn't everyone do this? Most real estate web design companies are puppy farms, selling fifty to one hundred web sites a week. Others simply take in more work than they have time to complete in a timely manner.Ê We do not do outside sales marketing of any kind - do not employ call center boiler rooms, calling agents around the clock, antagonizing them to purchase a web site.

Because of this, we can concentrate on a much smaller group of clients and work on getting their web sites ranked well in the search engines.

You can spot 'puppy farm' type companies easy: If you can't call up and talk to the OWNER of the company, keep walking.

Turning web site visitors into leads requires these things:

Search Engine Ranking Without ranking, you wont have visitors! You need people interested in real estate to visit your real estate web site before you can contact them about buying or selling their home!
Examples (first page google):




Real Estate Content (INTEGRATED IDX Real Estate Search - we download the mls data nightly),Reports, Forms, Calculators (Our sites are over 200 pages not including a single home or database search)

Once people find your real estate web site, they need something to keep them there long enough for you to capture their personal info as a lead.

Each web site comes with over 80 real estate reports, integrated MLS real estate search with Google Mapped Real Estate Search Results 11 Real Estate Calculators, Home Comparable Finder, Current Real Estate Interest Rates and more! (see chart at right)

For a web site that gets results, you need an expert web site designer to put together quality real estate content as well as expert search engine optimization and promotion if you want to have a successful real estate web site!

Web Content Solutions provides its customers with a complete Online Real Estate Web Business and Administration System! Whether it's custom real estate content, search engine promotion, redesign, or real estate hosting, look no further. We service real estate agents and real estate brokers with affordable pricing, service and quality every day with superior Web Design and high traffic.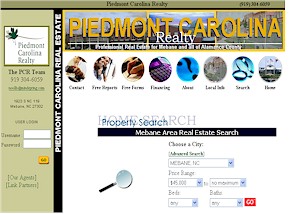 We set our real estate clients apart from the thousands of twenty page wonder sites that populate the internet today. Even if your site is beautiful and powerful, if you're not on the first page of the major search engines, you have a diamond studded mall in the middle of the desert!

We implement proven web design and SEO coding methods to stay at top of the major search engines for over 200 phrases per site. Even more than raking, we strive to deliver a professional looking and easy to use site. Many web sites can rank highly but are just too hard to navigate and use. We concentrate on both design and search engine optimization to give you the complete package. We offer a host of services including real estate web site design solutions far beyond anything else available.
IDX Real Estate Solutions
Until Broker Reciprocity became available on January 1, 2001, the only way you could have a integrated real estate property search on your web site was to frame Realtor.com or another national web site. The problem with using these other sites is that they have a lot of advertisements and each listing shows the listing agent?s picture and contact information. This is very bad because it allows your clients and visitors to contact the listing agents instead of you!

Thanks to the new rules you can now add your own personal MLS IDX Database Search to your web site! This enables you to send your clients and visitors to your web site to do home searching and know that they will contact YOU if they see a listing they are interested in!

Only your name and contact information will be on every listing in the MLS!

Stop buying leads.. Generate your own!

It's time to purchase a real estate web site that performs!